September 30, 2006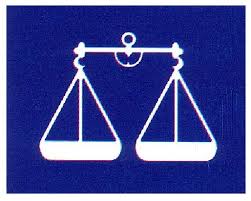 Now what does this symbolise? Balance of … power? equity? anything at all? Should I do a whoop-de-whoop or tear my clothes apart?
Clad in my horrifically ugly turquoise-blue school pinafore, I stared wonder-eyed at the brilliantly coloured flags waving gaily in the wind outside my school walls. Election Year 1999 came and went with little interest amongst my peers but quietly brooding I, (attempting to address my major examinations) contemplated Malaysian politics "through a glass darkly" and yearned for the day I would cast my first vote.
Came the next elections, excitably ensuring all details were sorted out and registrations completed. Pushing and campaigning for friends and peers in age group and above would Please Go And Register To Vote. Come Judgment Day, one strides into the room with no traffic to obstruct the way because Nobody in your age group has turned up. You see veterans walking and limping, in wheelchairs, queuing up to save the country from what they consider Big Trouble.
Today more than ever I feel the urge to ensure everyone I know, who is legitimate, registers themselves as voters. This is a right that everyone needs to appreciate. People may think it's just one lousy teeny weeny vote but come on, please don't self-deprecate yourself that way. Each vote counts. If there was trouble before, perhaps this time us citizens need to wake up to the disease of the nation.
Think about countries around the world that have been slowly diseased. Poison kills a person slowly, and such thick, sick, bitterness can cut off purity, righteousness, justice and honour like the haze does to clean air and oxygen. Think about nations that bow to corruption and never regain its sense of pride. It take aeons for democratic action to heal the land, but that is the way forward. If only the people get their act together sooner rather than later.
So what do you need to do? (I'm starting this way early so you have a chance to GO NOW or forever hold your piece, or peace..)
Go to the Election Commission website here, and the instructions will tell you what to do. Basically you need to either go to the EC Headquarters here OR go to State Election offices here OR go to your nearest post office, bring your IC along and just get a form to fill up! Voila you are done. I did it the post office way, which was the most convenient for me – it's near my house. Make sure you check online after that whether you are confirmed as registered, and your constituency is correct. If you shift homes then you ought to ensure your data is altered as well, or you will perhaps contribute to the growing number of ghost voters.
Election year is when things get heated up and it's an all out mud-slinging session. Maybe I'm talking about it too early but the next one year leading up to the General Elections will be sehr, sehr interessant.. very, very interesting indeed.  Stay Tuned.
Permalink Comments off